Evgeny Fetisov, Chief Financial Officer (CFO), member of the Executive Board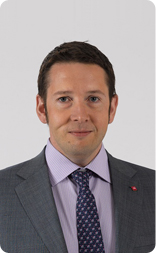 Evgeny Fetisov
Evgeny Fetisov was born in 1975.
He graduated from the Finance Academy under the Government of the Russian Federation with a specialty in World Economics. He also studied finance at Harvard Business School.
From 1994 Evgeny worked for various banks and consulting firms including Сitibank и McKinsey & Company.
From 2007 he was the Managing Director and Partner of Da Vinci Capital Management being in charge of financial sector investment.
In the meantime he was a member of the Board of Directors of RTS Stock Exchange from 2009. After the merger of two exchanges he was a member of the Corporate Governance Commission and Deputy Head of the Budget Commission of Moscow Exchange.
In February 2013 Evgeny was appointed Chief Financial Officer (CFO) and confirmed as a member of the Executive Board of Moscow Exchange.