Dmitry Shcheglov, Chief Operating Officer (COO)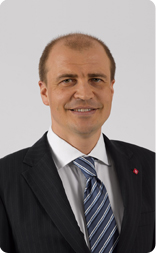 Dmitry Shcheglov
Dmitry was born in 1975. In 1998 he graduated from the Moscow State Technological Institute ("Stankin"). He joined MICEX same year as an expert of the Department for Trading and Clearing Systems Support of the Derivatives Market. Then he held different positions within the FX market division at the Exchange. Dmitry was immediately engaged in arranging the operation of National Clearing Center and transferring clearing on the FX market to NCC. In 2009 he organized the work of the MICEX Operational Center.
Dmitry was a Deputy Head of the Project Center for the Integration since April 2011.
In 2012 he was appointed Executive Director of Operations at the Moscow Exchange.
Dmitry holds a PhD in technical sciences specializing in automating processes and production.