Anna Kuznetsova, Managing Director of Securities Market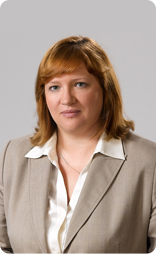 Anna Kuznetsova
In 1996, Anna Kuznetsova graduated from the faculty of mechanics and mathematics of the M. V. Lomonosov Moscow State University, and in 1998 from its faculty of economics.
Anna Kuznetsova holds a PhD in physics and mathematics.
From 1999to 2001, Anna worked for NAUFOR and was involved in the creation of the National Quotation System and development of the Complex Information Disclosure System.
From 2001 to 2004, Ms. Kuznetsova worked for RTS. Starting from 2003 she served as Head of the New Markets Development Department at NP RTS.
In 2004–2006, Ms. Kuznetsova worked as Executive Director of REGION Brokerage Company where she was in charge of the organization of work and interaction between the Company's subdivisions.
From 2006 to 2008, Ms. Kuznetsova served as Vice President of the Not-for-profit partnership "Russian Trading System" Stock Exchange" and Deputy CEO of OJSC RTS.
From 2008 to 2013, Ms. Kuznetsova held the position of Deputy CEO and from 2013 to 2016, CEO of MICEX Stock Exchange.
She currently serves as a member of the Executive Board and Managing Director in charge of the Moscow Exchange Equity & Bond Market, Investment and Innovation Market as well as Indices and Market Data Division.