Andrey Burilov, Chief Information Officer, Member of the Executive Board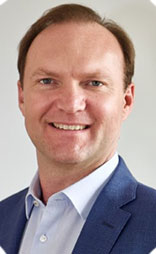 Andrey Burilov
Andrey Burilov was appointed Chief Information Officer and a member of the Moscow Exchange Executive Board in June 2020.
Before joining Moscow Exchange, Mr. Burilov served as vice president and IT director at SMP Bank. From October 2013 to June 2018, he was department director and a member of the Executive Board at Sberbank Technologies. In 2005-2013, he worked at Renaissance Capital.
Mr. Burilov began his professional IT career in 2001 at Deutsche Bank, where he created, developed and maintained an equity trading platform.
He is a graduate of Lomonosov Moscow State University's Faculty of Computational Mathematics and Cybernetics.