Pre-market trading
Beginning March 2021, MOEX FX and Derivatives Markets will open at 7:00am MSK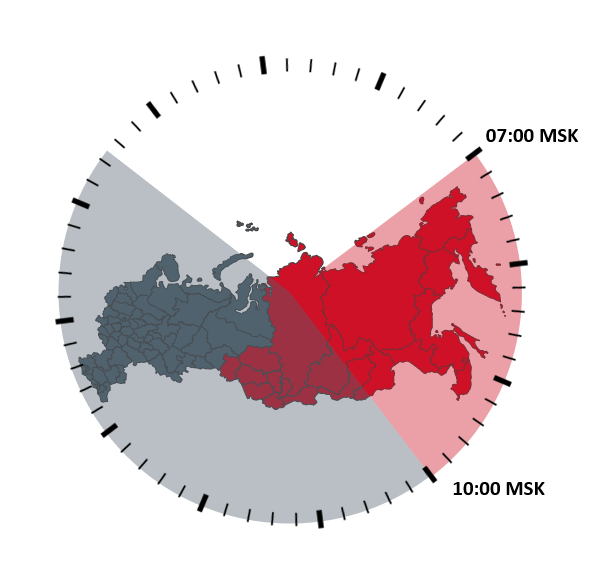 ✓ Improving availability of exchange services for clients from Eastern and Far Eastern Russia

✓ Opportunity to trade in quick reaction to news on the global market

✓ Developing business with clients from Asian countries

✓ Opportunity to trade on-exchange derivatives before the market open in Europe

✓ Building relations with Asian trading venues
Pre-market trading in details

When will trading hours be expanded?
March 2021
What time the FX and Derivatives Markets will open?
At 07:00 am MSK
What instruments will be available for trading
All instruments traded on the FX and Derivatives Markets
What trading session will pre-market trades be recorded to?
FX Market – Main trading session
Derivatives Market – Additional morning trading session
How will risk management work on the FX and Derivatives Market?
Trades executed from 7 am to 10 am will be subject to risk parameters calculated at evening clearing after the end of the main trading session on the previous day. The Single Limit as of the start of trading at 7 am is calculated based on these risk parameters. The risk parameters and limits are not changed before the start of, and throughout the pre-market trading; margin calls are not issued.
What collateral management tools will be available?
Trades are made to the extent of balances on clients' accounts. Asset profiles will be available for transfers between the markets within the unified collateral pool from 06:30 on 1 March 2021.
Are there any changes in the composition of reports provided at the end of the trading and clearing sessions?
The list of reports will remain unchanged; no new reports are expected.
Will the time at which the reports are distributed be changed?
No
What time will the trading system start?
The trading system will start at 05:50 MSK from 15 December 2020 (with a break for New Year holidays).
Are there any other specific aspects of clearing and settlement?
FX Market – the clearing mark-to-market session takes place as usual, i.e. from 9:30 -10:00 am MSK. Margin requirements are determined based on risk parameters available in the trading system by that time. Other clearing and settlement procedures remain unchanged.
Derivatives Market – clearing and settlement procedures remain unchanged.