Repo with the Bank of Russia
Member firms are admitted to repo trades with the Bank of Russia is they meet the following criteria:
they are credit institutions;
they have signed appropriate agreements with the Bank of Russia;
they act on their own behalf and at their own expenses.
The Bank of Russia sets repo auction parameters and limits:
list of eligible securities out of the Lombard List;
order attributes: repo maturity, eligible settlement codes, initial haircut, lower and upper bounds of the haircut by repo maturity and currency, repo rate.
Repo trades with the Bank of Russia are executed as repo auctions or fixed rate repos.

Settlements in RUB
Settlements in USD and EUR
Repo auction

Repo auction with settlement in RUB
Trading mode code: FBCB

Repo auction with settlement in USD
Trading mode code: FBCU
Repo auction with settlement in EUR
Trading mode code: FBCE

Fixed rate repo

Fixed rate repo with settlement in RUB
Trading mode code: FBFX

-
Bank of Russia is a counterparty to trades
Currency: RUB, USD or EUR
Eligible settlement codes: S0-S5, Rb, Z0
Repo term: 1-365 days
Bank of Russia sets parameters for available transactions
Fees are charged according to the fee schedule selected by the member firm for executing repo transactions. The commission fee is converted into RUB at the Bank of Russia's exchange rate of the settlement currency against the rouble as of the repo transaction date.

Settlement codes
Execution of the 1st leg:

Execution of the 2nd leg:
2nd leg of repo is executed only by submitting a settlement instruction
2nd leg of repo may be netted with the first leg of a new repo trade
Settlement in securities under 2nd leg is done either following the nearest clearing session after settlement instruction, or immediately ("urgent settlement instruction")
Settlement in cash is done immediately
Price use procedure effective 21 November 2017: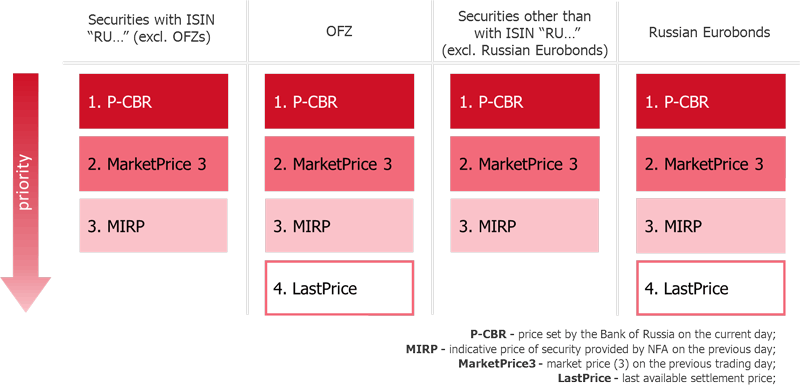 ON-EXCHANGE REPO WITH THE BANK OF RUSSIA AND COLLATERAL MANAGEMENT BY NSD
Orders are placed and trades are executed via exchange terminal
New codes are available for 1st legs of RUB repo trades: DVP1, DVP3
RUB repo auctions and fixed rate repos are available
Basket repo with the Bank of Russia, which covers securities included on the CBR Lombard List and accepted as collateral for direct repo with the Bank of Russia
Additional securities identifier (sub-basket) or security may be indicated for selecting in collateral with priority
The Bank of Russia sets repo terms (1D-12M) are set by the Bank of Russia
The Bank of Russia sets haircuts
Clearing by NSD: multilateral netting for DVP3 settlement of 1st and 2nd legs of trades
Four clearing sessions: 12:00, 14:00, 16:00, and 19:40 (Moscow time)
Collateral management by NSD: automatic collateral selection, re-evaluation of obligations, margining, collateral substitution, return of income on securities
Partial execution of the 1st repo trade leg
Rollover of the 2nd leg of repo in case of default on settlement
For any queries, please contact our Repo and Deposit & Credit Operations team.
Telephone: +7 (495) 363-3232, ext. 5424, 5398, 5396, 5455
e-mail: repo@moex.com