Market Making on Moscow Exchange
To enhance market liquidity, Moscow Exchange offers its Trading Members the opportunity to register as a Market Maker and quote a range of financial instruments including securities, derivative contracts, currencies and commodities.
Becoming a Market Maker will require that the member enter into a Market Making Agreement with Moscow Exchange. There is also the option to sign the Market Making Agreement with an issuer and Moscow Exchange.
In fulfilling its obligations, a Market Maker may trade either on its own behalf and at its own expense, or on its own behalf and at the client's expense, if instructed so by the client.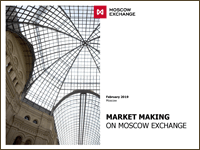 Market Making obligations are determined pursuant to the Federal Financial Markets Service's Regulation No. 11-2/pz-n on terms and procedure for maintaining price, demand, supply and trading volume of financial instruments, foreign currency and (or) commodities, dated 21 January 2011 (the "Regulation").
Under the Regulation, Moscow Exchange discloses information on Market Makers' prices on instruments traded on the Exchange, as well as their supply, demand and trading volumes on its website.